Workbenches:
Customer Satisfaction Guaranteed
McTavish Steelworks provides its clients with high quality and durable steel workbenches that come in a range of 4, 6, 8, 10, and 12 feet. Even after our products have been delivered, we are only one call away to answer any follow-up questions.  Our facility handles the entire process in-house from designing, manufacturing and shipping with a focus on quality control during each stage.  We are committed to the needs of your business.  McTavish Workbenches, built to last!!   Mentioned below are some outstanding features of the steel workbenches produced by McTavish Steelworks.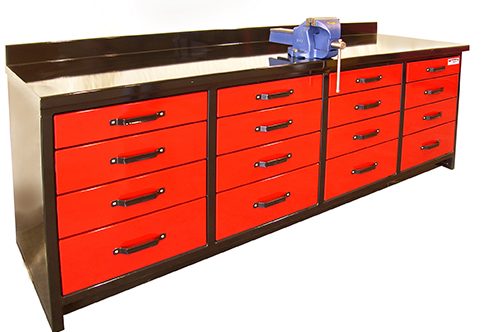 Countertops Built To Last
Heavy Duty 10 gauge steel table top construction.
Stainless Steel Counter Tops are also available.
The workbench top is designed for the mounting of vices.
Heavy Duty Drawers
Drawers are made with Ball Bearing Rollers
and have a 300lb capacity.  Built to last!!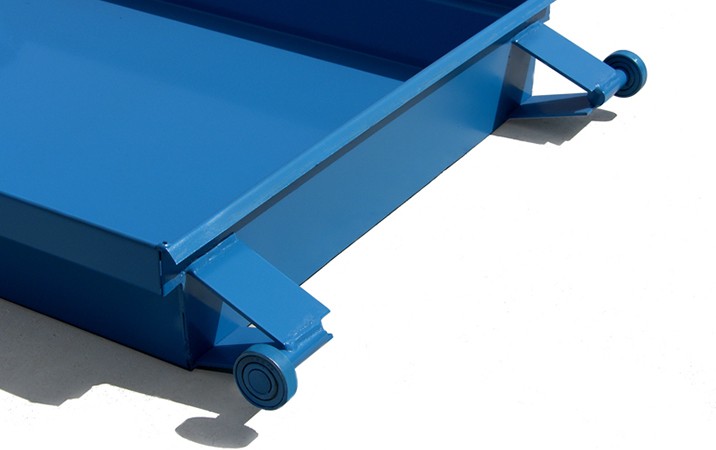 Standard Colours
All cabinets are  powder coated at our facility. Bench tops also available in stainless steel.
Other colors are available upon request.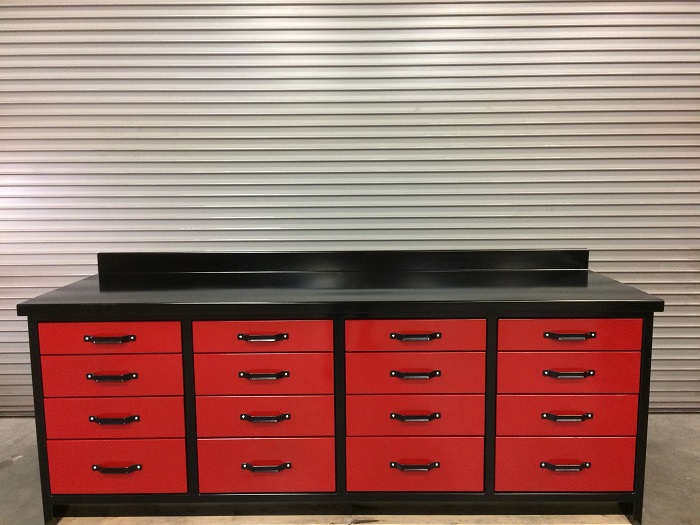 RED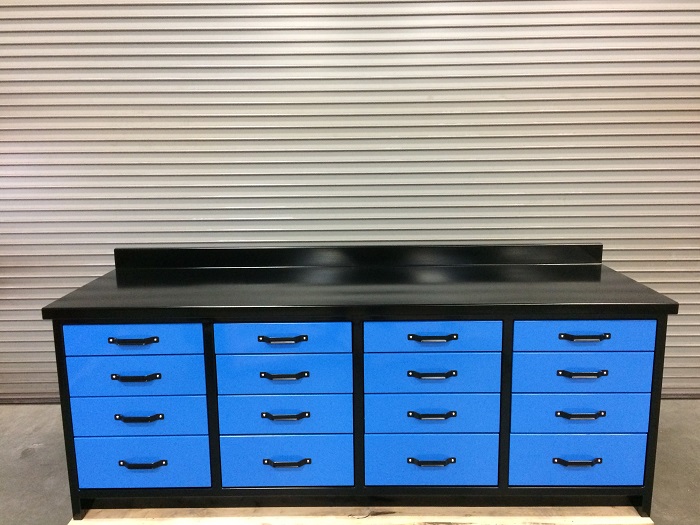 LIGHT  BLUE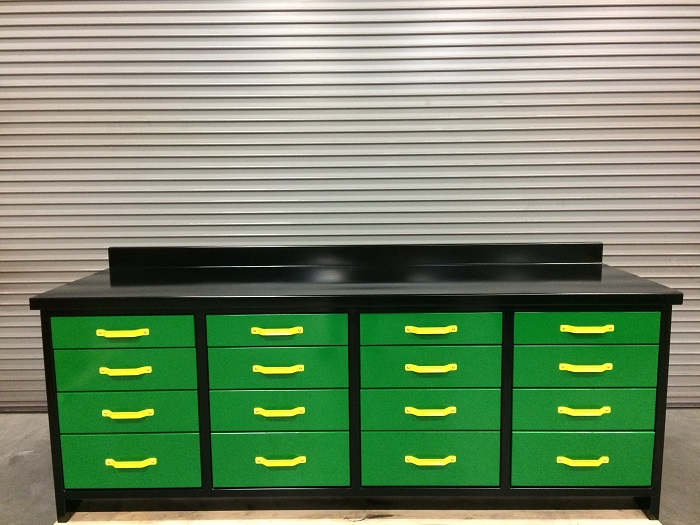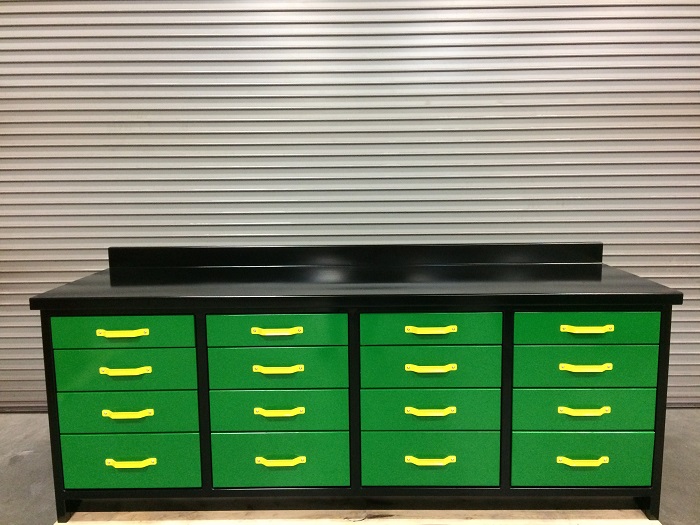 GREEN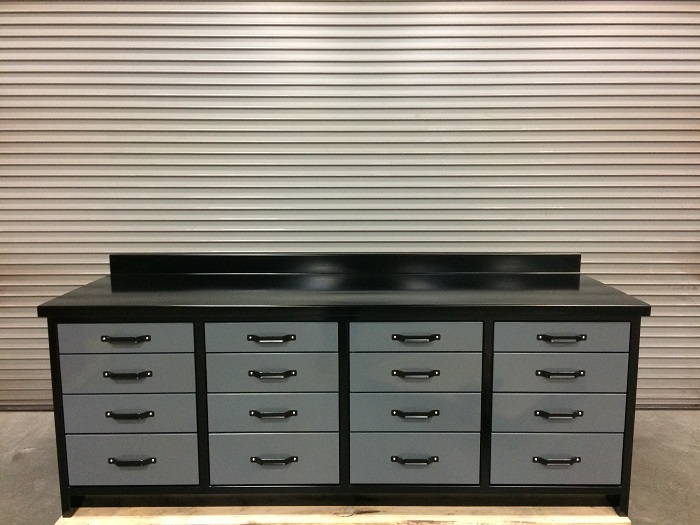 DARK GRAY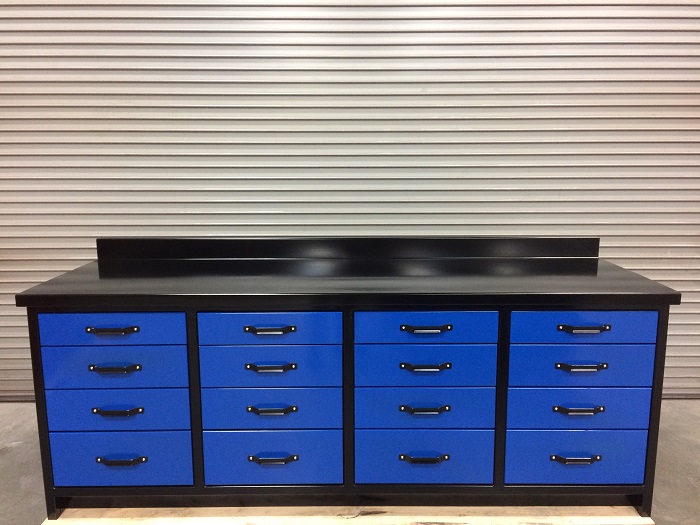 DARK BLUE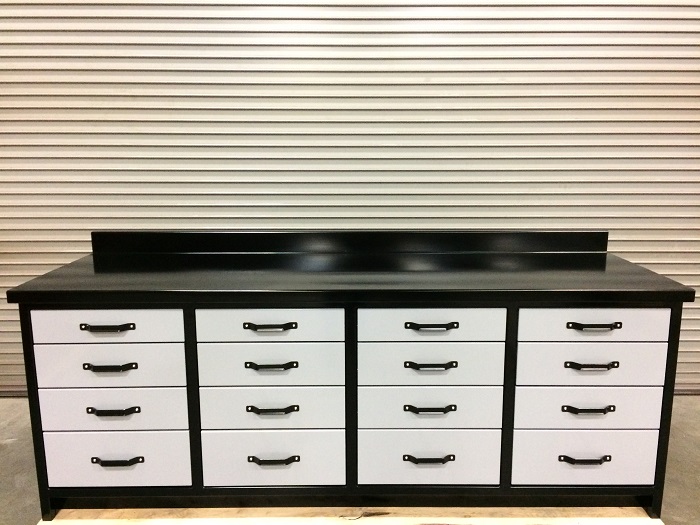 LIGHT GRAY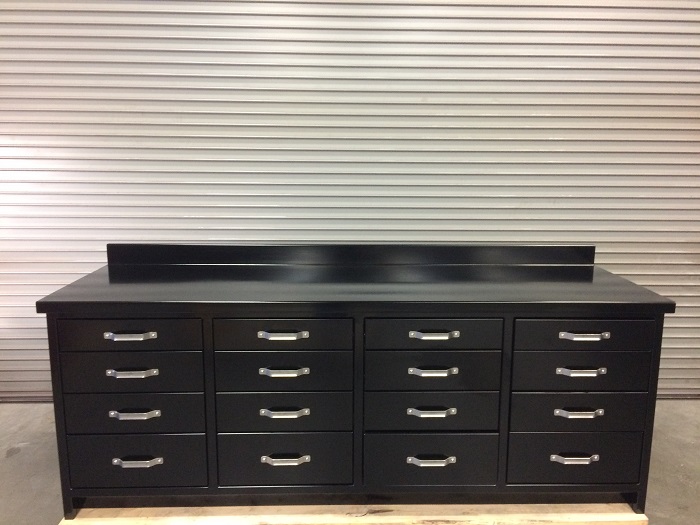 BLACK
Upper Cabinets
The place to hang your most common tools.  Our upper cabinets are a great add-on to your heavy duty work bench to keep tools off the work bench surface and within reach all the time.  Can be added to an existing work bench.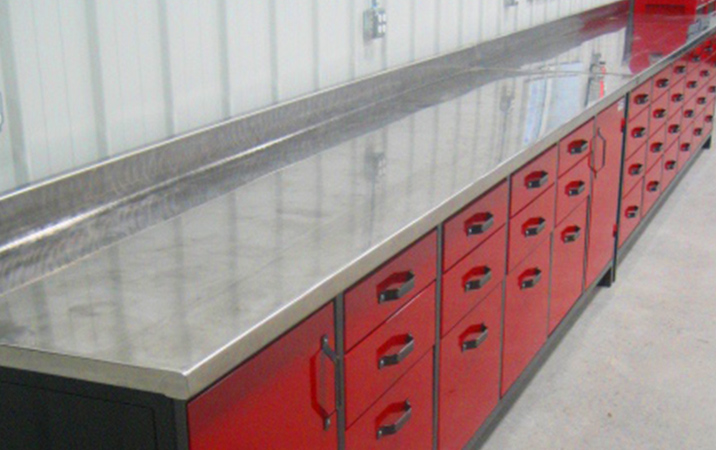 Stainless Steel Counter Tops
A Stainless Steel counter top adds the look of class to your workbench.  It is a durable 11ga SS with no paint to scratch off.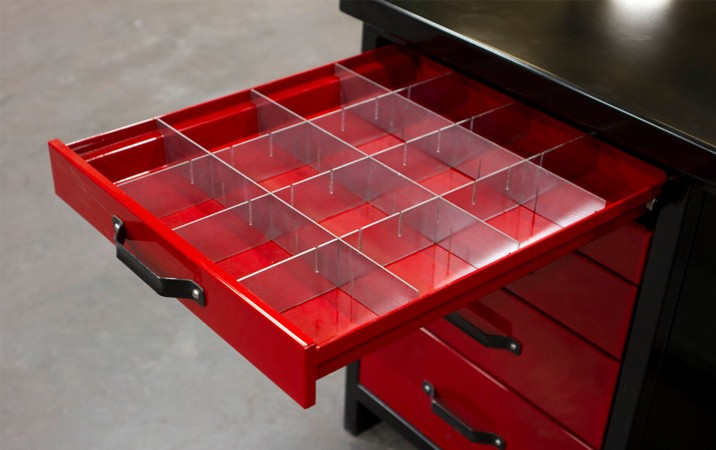 Optional Drawer Dividers
Use the optional drawer divider to organize your bolts and small parts.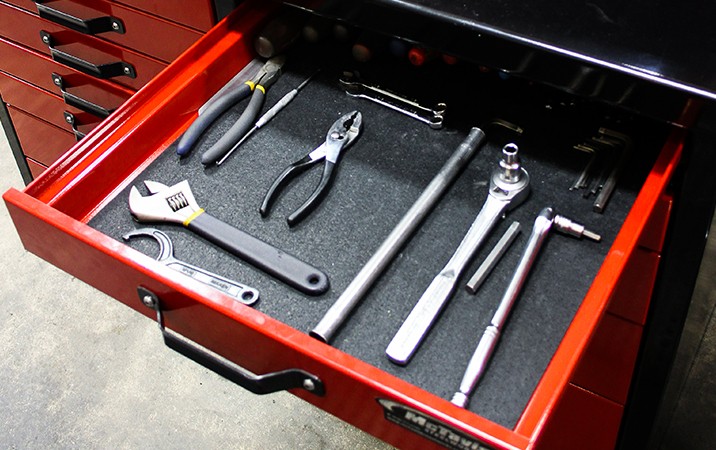 Optional Drawer Liners
The optional drawer liners are made of thick rubber to keep your tools from sliding around in the drawers while closing.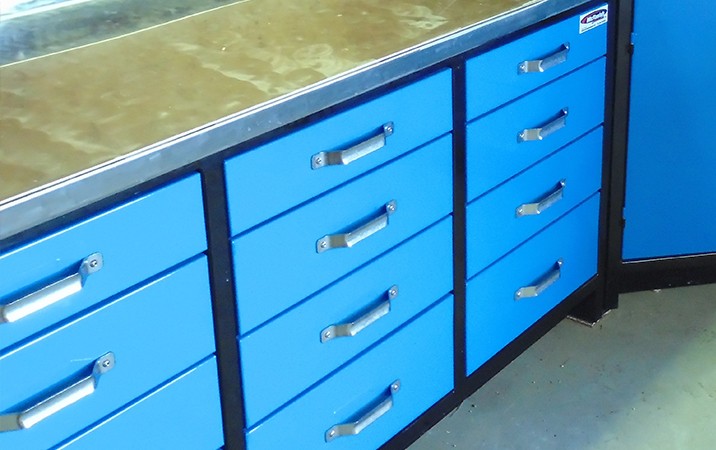 Stainless Steel Handles
The optional stainless steel handles give a nice look to your bench.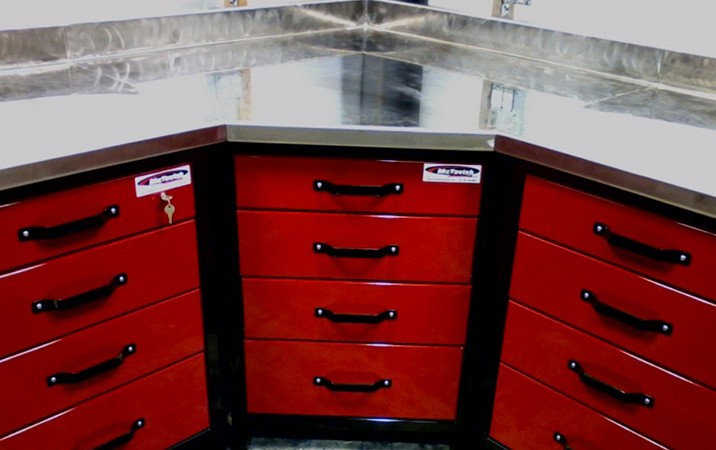 Corner Units
When you have 2 benches coming together in a corner, we have the perfect corner unit for you!!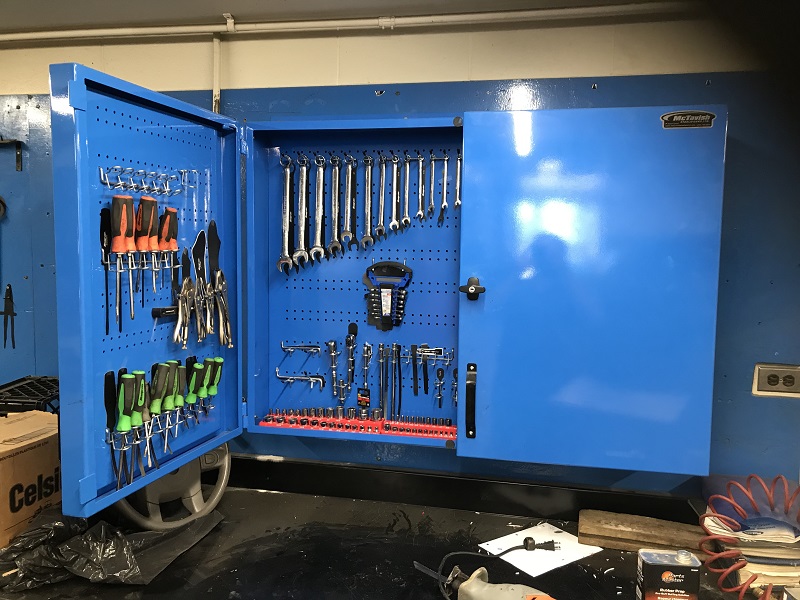 Wall Cabinet
Lockable wall cabinets are available.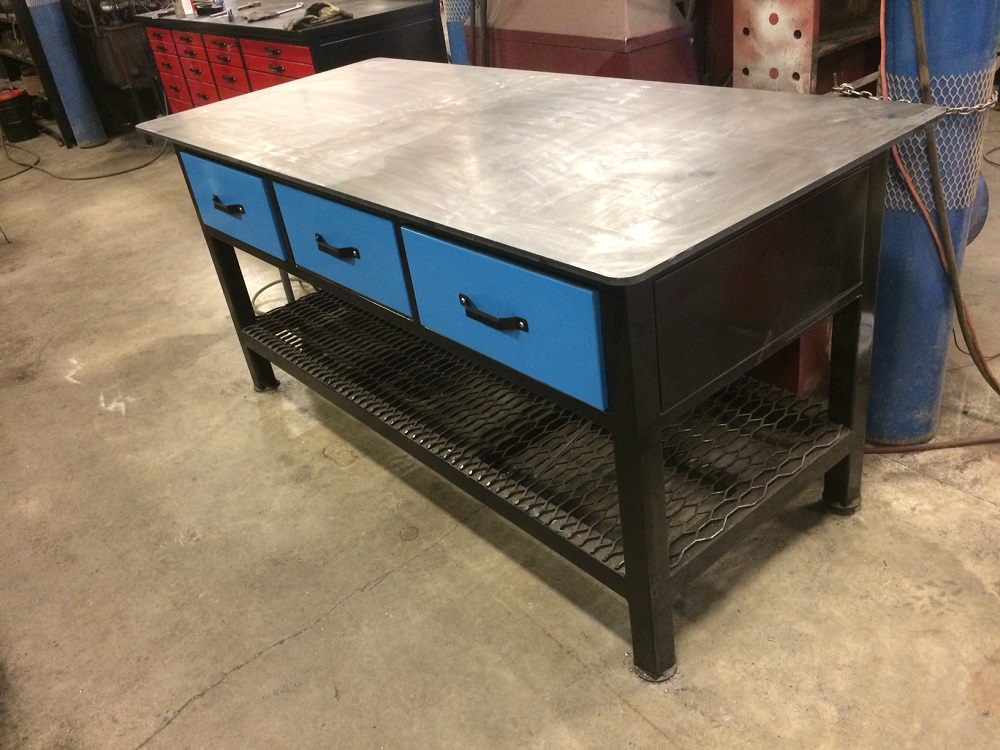 Welding table
Welding tables are available in 4' or 6' length. Heavy duty 1/2" top for all your welding needs.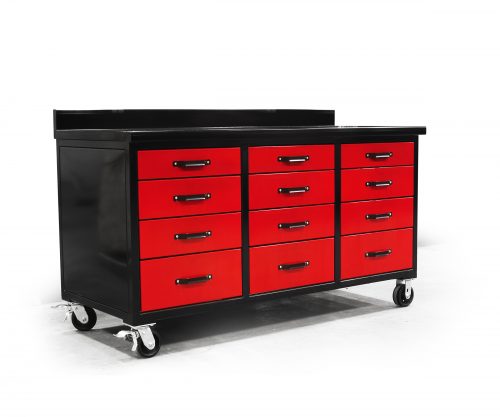 Cabinets on wheels
Any 4' and 6' workbench can be built with wheels.